Navigator Sound Card Modem

The Navigator is a complete USB sound card modem featuring a proven USB audio sound card chip, six FTDI USB serial COM ports, a K1EL CW Winkeyer, True FSK RTTY and rig control connections for every radio. The Navigator completely connects a Ham Radio Transceiver to your Personal Computer. Connection to the PC is by a single USB cable. The Navigator provides all audio and control required functions as well as power through this single USB cable. A Navigator Master Cable assembly connects the Navigator interface connector and the transceiver. A block diagram of the Navigator is shown below.
Navigator Block Diagram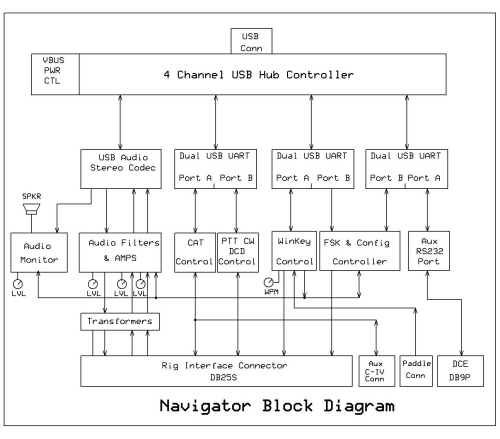 All USB devices are controlled through an internal 4 channel USB Hub controller. Full duplex, dual channel audio is provided by the USB Audio Codec. Three dual USB UART devices provide 6 COM ports. These COM ports are assigned to interface functions and provide compatibility with all existing software applications. The assignments are:
Hub channel 1 Channel 1 - USB Dual Channel Audio Codec I/O
Hub channel 2 COM port A - Transceiver CAT Control
COM port B - PTT/CW control & DCD input
Hub channel 3 COM port A - Winkeyer V22 CW Controller
COM port B - RTTY/ FSK Controller
Hub channel 4 COM port A - General Purpose DB-9 RS-232 DCE port
COM port B - Navigator Options Controller

All Navigator options are Software Defined there are NO jumpers or switches to connect or change around at all. You will never have to open up the Navigator to reconfigure it for different transceiver. ALL the configuration is done via our NavOptions software shown on Specifications Page, Part 2.
An audio monitor with volume control is provided within the interface so that you can hear the side tone of all audio generated modes such as PSK. Side tone monitoring of the Winkeyer CW controller as well as the FSK Controller are also provided.
The Navigator is designed for use with a PC using the Microsoft 2000, XP and Vista, Win7 and Win 8 operating systems. MAC OS-X (Snow Leopard and Lion) is also supported as is Linux.
The Navigator Interface is made the USA and is FCC Class B certified for a USB digital device. The Navigator is also RoHS certified, Industry Canada Standard certified and CE (European) compliant.
USB Device Serial Numbers
Each device connected through the hub carries a unique serial number so that Navigator is assigned the same COM ports each time it is plugged in, or power is turned on.
Multiple Interfaces on One Computer - if you want to operate more than one Navigator on on computer, just let us know, and we will assign unique USB addresses to each Navigator - no charge for this service.
This allows multiple copies of the operating software to be running simultaneously, provided that each instance "belongs to it's own directory (or folder) within the computer.
This also means that each instance can be operating either the same or different types of transceivers.
If a transceiver with dual receive such as the Icom IC-7800 or Yaesu FT-1000D are connected, only one instance of the operating software is required, since the Navigator interface has two input channels one for the receiver and sub-receiver.
USB Hub
Bus Powered
Total current for Hub and all Interface devices is less than 350mA.
Current draw during Hub enumeration less than 30mA.
Soft power control of VBUS for downstream devices.
Removes VBUS when in suspend.
Power LED is activated when Hub is enumerated and VBUS is applied.
CW and PTT controls are disabled for 10 seconds during device enumeration.
Audio Functions
USB Audio Codec
Standard Microsoft Audio Device

2 channel Output DAC 16 bit

2 channel Input ADC 16 bit

Codec operates at sampling rates up to 48,000 Hz
Analog interface 2 channel [Input]
Transformer Isolated with separate analog and digital grounds

1:1 isolation transformers for each channel

Level controlled by front panel potentiometer for each channel

Software Defined input attenuation 0dB or -15dB for each channel

Dual receiver transceivers are supported, each receiver with its own separate input channel
Analog interface 2 channel [Output]
Channel #1 used for audio monitor

Channel #2 used for audio drive to the transceiver.

Transformer isolated, separate analog and digital grounds

10K ohm audio transformer

1 uFd Blocking capacitor on output

Output filter: Sallen-Key Low Pass Filter

Level of audio driving RF Output controlled by front panel potentiometer

Software Defined output attenuation: 0dB or -20dB.
Audio Monitor
Listening level controlled by front panel potentiometer

Internal speaker frequency response: 500 Hz to 4000 Hz

Modes Monitored

All modes generated via the Audio Codec such as PSK, MFSK, Olivia, MT63, Throb, AFSK RTTY, SSTV and more. CW side tone from Winkeyer controller. Software controlled enable/disable directly from the Winkeyer WK2MGR Setup Manager. FSK side tone generated by FSK controller gives a clear audio representation of signal sent to digital FSK. Software Defined disable of FSK Side Tone.
DIGITAL INTERFACE FUNCTIONS
CAT and Transceiver CONTROL
Serial COM channel dedicated to CAT functions. Data rate settable up to 115,200 baud. You can set the actual data rate compatible with your transceiver.

CAT Interface combinations supported are:

Half duplex TTL level high true two wire, open collector transistor drive. TTL receive.

A 3.5 mm (1/8 inch) connector is provided at the rear of the Navigator as an auxiliary output for CI-V applications. The CI-V signal provided for Navigator control of the transceiver is also provided on the DB25S connector. The CI-V Aux connector is used for other ICOM devices which may be under control of the software operating the Navigator.

Full duplex TTL level high true three wire, open collector transistor output drive, TTL receive.

Full duplex TTL level high true three wire, TTL output drive, TTL receive.

Full duplex TTL level low true three wire, inverted TTL output and input.

Full duplex RS-232 level low true three wire, RS-232 bipolar levels for input and output.

Other control signals:
All transceiver interface signals are available at the DB25S connector on the back of the Navigator interface. Pin outs are compatible with all cables for the older RE, RE Plus and RE Standard interfaces.

Output control signals include PTT, CW, and FSK. These are all open collector transistor outputs.

Input signals include the DCD input to the PTT/CW UART, for use with VOIPapplications such as Echolink and IRLP that need to know when the rig Squelch has been activated.
RFI Filtering all input signals and bi-directional input/output signals to the interface are filtered at the
Navigator connector to reduce stray RF from entering the unit.

A TTL level PTT is also provided for transceivers that require it.

No power is used from the transceiver to help power the interface.

Front Panel Controls and Display

Potentiometers:
CH1 In & CH2 In
Controls the signal level of audio input for both receive channels of the rig. These controls are used to set the level seen on the operating software waterfall. Attenuation control for each channel is provided on the Navigator Option program for use with this level control.
RF Out
Controls the audio drive level of signals sent to the transceiver. It directly controls the RF output level of the transceiver. A general attenuation control is also provided on the Navigator Option program for use with this level control.
Monitor Level
Controls the level of the Navigator audio monitor. Additional controls for the Monitor are provided on the Navigator Option program.
CW WPM
Controls speed of the Winkeyer keyer. Display speed is provided by the operating software.
LED Displays
PTT Red LED on whenever the rig PTT control is activated.
CAT Yellow LED on whenever data is transferred to/from the transceiver.
The LED can be Software Defined to either blink when polling is done, or remain steady when CAT is
active. The control is done via the NavOption software provided.
FSK Yellow LED, ON when FSK data is being sent to the transceiver from the Navigator.
CW Yellow LED, ON whenever CW is being sent to the transceiver from the Navigator.
PWR Two Color LED indicates the state of interface power. When power is first applied to the
Navigator, the HUB is enumerated. After Enumeration is done, power is applied to the rest of the board
and the PWR LED is set to light green (Green plus Yellow). During the first 10 seconds after power is
applied to the rest of the board, output from the PTT and CW lines are disabled, to allow the serial ports
of the board to be set up. When this time out is complete, the color changes to dark green.
General LED Brightness control the brightness level of the LED's are Software Defined to adapt to the
lighting environment of the ham shack or when mobile or in the field where a higher LED intensity
would be desired. The control is done by the Navigator Option program.

Operating Modes

Audio codec generated modes:Operating modes are dependent upon the software used with the
interface. The unit is designed to accommodate sound card generated modes with audio frequencies
within a 400 Hz to 5 kHz bandwidth, although typical amateur transceivers will limit the useful
bandwidth to about 400 Hz to 2700 Hz. Any modulation method that is contained within this bandwidth
can be used with the Navigator.
Typical modes using this technique are BPSK31, BPSK63, QPSK31, FSK31, RTTY (AFSK), SSTV, Packet,
Amtor, MFSK16, THROB, MT63, Helleschreiber, Olivia, WSJT, CW (audio generated) and other new
modes using the sound card architecture.

CW Mode

CW using direct keying of the rig is provided in two ways.
Software which generates the key closures using a COM port DTR line is supported by the PTT/CW COM Port. This mode does not allow use of thepaddle, CW output is only from the keyboard.

A more robust CW control, which supports both paddle and keybord input, is provided by including the control chip from the popular Winkeyer by K1EL. The Navigator Interface uses version 2.3 of the K1EL Winkeyer Keyer. Our version K1EL software defined keyer totally eliminates those key bounce, false character send and start/stop issues which were ever prevalent in our competitor's built in K1EL keyers. Setup and test of the Winkeyer is done via WK2MGR software provided by K1ELand installed on our install CD. A COM port is dedicated to operation of the keyer. You can plug your paddle into the Navigator, and provide keyed output either from your keyboard or from the paddle. Side tone generated by the Winkeyer Keyer is played via the audio monitor feature of the Navigator.

A special training mode is also featured when using the Winkeyer Keyer. A small amount of the sidetone is fed back to the audio codec input, so that operating software that has CW copy functionality can decode the CW keying done via yourpaddle. This is an excellent training tool to help improve readability of your "fist"

CW Options are set by the WK2MGR software. In addition, the Navigator Option software provides control over PTT (On or Off) during CW.
Direct FSK keying of transceivers is provided by the Navigator. One of the shortcomings of USB connected UART devices is that they do not support the baud rate, word length and stop bit configurations required by Amateur RTTY modes. An on-board FSK Controller effectively acts as a UART for this mode. The FSK Com Port of the Navigator is configured as a FIFO (first in first out) buffer and data is passed to the FSK Controller to generate the serial data stream required for Ham RTTY. Baud rate, stop bits, and FSK polarity is software configurable using the Navigator Option software provided.
Another feature of the FSK controller is that an audio FSK side tone is created and connected to the Audio Monitor so that you can hear a representation of the FSK sent to the transceiver. If your transceiver has a side tone function for RTTY, you can disable the local monitor with the Navigator Option software.
The output from the audio codec is suppressed when FSK is generated by the FSK controller. Some operating software feeds the digital FSK signal to the audio codec causing distortion of the monitoring signal. Suppressing audio from the codec when in this mode improves the quality of the side tone monitor.
FSK Options can be set to:
Baud rate: 45.45, 75, 100
Stop bits: 1, 1.5, 2
Polarity: Normal or Inverted
PTT: On or Off

General Purpose RS-232 Interface
A general purpose RS-232 Interface is provided on one COM channel of the Navigator. This is implemented as a DCE device (just like the one on the back of a computer). Signal levels are bipolar RS-232, generated by MAX232 integrated circuits. Signals supported are:
| | |
| --- | --- |
| Output: | Input: |
| TxData | RxData |
| RTS | CTS DSR |
| DTR | DCD |

RI (Ring Indicator) is not supported.

Connector E DB9P (male pin) connector is provide at the rear of the Navigator. All input signals are RFI filtered at the connector to reduce any RF signals from entering the board.

NAVIGATOR Software Defined Options Control
All Navigator Interface options are Software Defined there are no jumpers on the board. The control program called "Navigator Options" is provided to manage the options. A screen shot of the "NavOptions" control program is shown below.
The items shown can be selected and set by a simple mouse click. Each time the option set is changed, a new copy is sent to the Navigator and the setting is used immediately. If you don't like the changes you have made, click the Restore Default button and it will put it back the way it was. If you like the settings, click "Save to Default and the new copy will be saved in non-volatile memory in the Option Controller of the Navigator.

When the Navigator is powered on, the last options saved to the non-volatile memory are reloaded and ready to use.

Other features of the NavOptions software is the ability to select the port assigned for configuration control. All active COM ports are displayed, and you select the one assigned to configuration. If you select the wrong channel, the software queries the port to determine if the port is busy (therefore not a config port) or if it is available, but not a config port, or if it is a valid config port.

The NavOptions software can be left running along with any operating software you are using or it can be clicked off. Your options are always saved on-the-fly within the Navigator controller. There is no need to turn your Navigator or control software off or on again.
Physical Specifications

Size: 6 5/8" x 2 1/4" x 6 5/8" (15.9cm x 5.7cm x 15.9cm)
Weight: 2.0 lbs. (925kg.)
Case: Anodized extruded aluminum.
Front & Back Plates: Steel

Electronic Keyer:
K1EL's Software Defined Winkeyer USB Keyer Ver.23
An absolute must-have for the avid CW contester and DX'er.
(No keybounce or false characters like our competitor's units)
Built-in transmit monitor speaker with front panel volume control.